iheartu and I wrote this story. it's a sequel to Chinese Paladin. I didnt go into great details on past storyline. wrote this story assuming everyone had the chance to watch the original series. this story takes place three months after the series end.
this story will focus on the next generation with a few new characters. the new leads will be Wang Liu Xiang(Wang Xiao Hu/Song Tian'er's son) and Li Yi Ru(Li Xiao Yao/Zhao Ling'er's daughter).
Chapter 1 - Love and Sacrifices
Yu Hang Zhen Town is a big town. These streets should be very lavishing and bustling during daytime. But now it was deep into the night, the new moon looked like a hook as it shined down onto the broken slab stone streets. Most of the townspeople were in their bed after a long day of work. Only a few wine shops were open. A young handsome man sat in one of the wine shops. One could tell that he had more than enough to drink.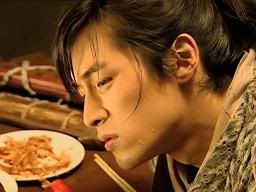 Li Xiao Yao poured another cup of wine but only a few drops came out of the bottle. He reached for another bottle but found it to be emptied. Out of frustration, Li Xiao Yao threw the wine bottles and cups onto the floor. He called out to the shop owner but had difficulty with his words.
Li Xiao Yao slammed his fist on the table and yelled, "Boss man, bring me more wine!"
The wine shop owner shook his head and said, "Young sir, I think you had enough wine for today. I think you should…"
"Are you afraid that I can't pay you!"
Before the wine shop owner could reply, Li Xiao Yao took out a few tael of silvers out of his pocket and smashed them into the table. The shop owner was stunned. The shop owner thought to himself, "Even though this young man is drunk but his internal energy is still quite powerful." He didn't want to anger the young man
any longer and complied with his request.
Just as Li Xiao Yao was about to take another gulp of wine, a tall skinny man appeared behind him. He walked up to Xiao Yao and grabbed onto his shoulders. Xiao Yao clinched his fist ready to strike. Fortunately, the skinny man called out his name and patted him on the back. Xiao Yao rested his fist and continued to drink. Wang Xiao Hu wasn't the most handsome man. However, no one could question his companionship toward his friends.
Wang Xiao Hu sighed and commented, "Xiao Yao, I think you have enough for today. You should go home now. You should be with your daughter."
Xiao Yao replied, "My aunt is taking care of Yi Ru so don't worry." He poured another cup and pushed Xiao Hu's hands away.
Xiao Hu grabbed Xiao Yao from behind and pulled him off the stool. Xiao Yao lightly strike him on the chest and sat back down. If it was someone else beside Xiao Hu, he would have used full force and knocked him unconscious. The wine shop owner ran and hid behind the counter. He didn't want to get involved with the two men.
Xiao Hu hesitated a bit and then asked, "Do you want to drink everyday the rest of your life?"
Xiao Yao didn't answer. Xiao Hu continued, "You have lost your wife and Lin Yue Ru three months ago. I know it's hard on you but you have to let it go. I believe both of them want you to continue on with your life. I think…"
Xiao Yao cut him off and shouted, "THEY ARE MY LIFE! You don't know how I feel! You didn't lose anyone. Go back home to your wife!" Tears formed in his eyes. He walked out of the wine shop and disappeared into the woods.
The shop owner walked out of the counter and asked Xiao Hu, "Young sir, aren't you going after him?"
Xiao Hu sighed and answered, "Just let him go. He needs to be alone for now. No one can change his mind now. People can't have a clear mind when they can't heal their own heart. Only he can help himself." He paid the shop owner and left.
Wang Xiao Hu and Li Xiao Yao were good friends. True friends. If blood was thicker than water, their friendship wouldn't be in this class. Their friendship was like fine wine instead. The older the wine gets, the better it taste. They understood each others' feelings.
-------------------------------------------------------------------------------------------
On the outskirt of the town, a lantern was lit from a small house. The couple who lived in the house was still up and enjoying the night life.
Song Tian'er poured a cup of hot tea for her husband and asked, "Hu'er, did you get a chance to talk to Xiao Yao Da Ge?" (Da Ge = big brother)
Xiao Hu sipped the tea and responded, "I did but he still needs time to get over it."
He looked at his beautiful wife and continued, "Let's not be concerned about this matter right now. You should worry about yourself."
Song Tian'er grabbed one of his hands and placed it on her abdomen. She caressed his hand and said, "Our child is doing fine."
"I'm glad both of you are healthy."
"Have you thought of a name for our child?"
Xiao Hu gave her a smirk and replied, "I have. If our child is a boy, I will name him 'Wang Liu Xiang'. As for a girl, I will name her 'Wang Li Qi'.
Tian'er gave her husband a kiss on his cheek and shouted, "Great! You picked beautiful names!"
Xiao Hu chuckled, "I hope they look like you and not like me."
Tian'er blushed and responded, "I hope they have a good heart like their father."
************************
About two years ago, Song Tian'er was still working in a brothel. Wang Xiao Hu was still a poor lonely young man seeking for his first love.
One rainy night, Song Tian'er was spotted in dark alley drenched with tears. Her body was also covered in blood. She had a hard time breathing and keeping herself from falling down. After a few steps, she fell to the ground. Fortunately, Wang Xiao Hu happened to pass by that day.
Wang Xiao Hu was on his way delivering vegetables for the local restaurants. As he was pushing the wooden cart down the dark alley, he spotted a person on the ground. Xiao Hu walked up and saw a wounded woman. He checked her pulse and it was weak. Her body was half exposed. Xiao Hu face reddened when he saw her body. He took off his shirt and covered up her body. Then he put her down on the cart and carried her off.
Song Tian'er was asleep for two days straight. When she woke up, she was surprised to see herself in a small room. The room was small but the owner took good care of the place. Tian'er looked around the room in search of the owner of the house. She was about to get off the bed when a young man walked into the room.
Xiao Hu walked into the room with a hand full of vegetables. Song Tian'er was a little startled but kept her composure. She was used to seeing different men every day.
Xiao Hu placed the vegetables on the table and started to wash them. He looked toward Song Tian'er and gave her nice smile.
Tian'er grinned and asked, "Where am I? How did I get here?"
He replied, "You were unconscious on the alley near one of the inn. You were injured and I carried you here."
She looked at her wounds and asked, "Did you dress me up with these bandages? And where are my clothes?"
Xiao Hu's face turned absolutely red and answered. "I…"
He had never seen a woman naked. When he was treating her wounds the first day, he had a hard time undressing and covering her up with the bandages. Song Tian'er wasn't even a bit embarrassed due to fact that she worked at a brothel. Xiao Hu didn't know she worked at such a place.
He swallowed up his words and clearly answered, "I have to apologize to Miss. That day your body was wet and your clothes were covered with blood. Some parts were also torn. I had to replace them with the one you're wearing now. I…I swear to you Miss. I didn't offend you any way. Please…please forgive me if I did."
Song Tian'er giggled and said, "Sir, I didn't accuse you with anything. Why are you apologizing? I just wanted to start a conversation with you. Plus, I don't even know the name of my savior."
Xiao Hu looked puzzled and asked, "Who? Savior?"
Tian'er giggled again and replied, "You silly. You've saved me; therefore, you're my savior."
Xiao Hu scratched his head and started to cut the vegetables. He was a bit embarrassed for asking a stupid question.
Song Tian'er found Xiao Hu to be a bit amusing. She kept her eyes on him to see if he was looking at her. She thought to herself, "Most men at the brothel would drop everything and just stare at me. This man was different. Not only did he not want to sleep with me but he only took a few glances at me.
She was a bit upset because she thought he didn't find her attractive. Every girl wants to know that she's beautiful. However, Xiao Hu didn't give the slightest gesture about her beauty. After awhile, she found out that he was a true gentleman. She'd never thought that she could find a man who treated her so well.
Tian'er looked at him again and softly said to herself, "He's not a handsome man but he has a good heart."
Xiao Hu cut her off, "What's a good heart?"
She was startled by his question. She didn't know that she was speaking out loud.
She continued, "It's not important. So tell me…what's your name?"
Xiao Hu replied, "Wang Xiao Hu. What about you Miss? What's your name?"
Tian'er got off the bed and walked up right beside him. Suddenly, she got close to his ears and seductively whispered, "My name is Song Tian'er."
Xiao Hu backed away a few steps and started to cut the vegetable again. Sweats were coming down his forehead and right down his cheeks.
She looked at him and gazed into his eyes.
The more Tian'er got closer to Xiao Hu. The more he started to sweat. His hands started to tremble.
Tian'er giggled because of his reactions. She looked at him again. All of sudden, she grabbed him and took him into her arms.
Xiao Hu yelled and cut his own finger. His finger was bleeding but he kept on starring at her. Only when Tian'er held his hand up did he notice the blood on his finger.
When Xiao Hu was about to reach for a cloth to cover up his wound, Tian'er grabbed his hand and put his finger in her mouth. He was shocked and also speechless.
She pulled his finger out and said, "There you go. See, everything is fine now. You don't have to worry. I can take care of you too."
The first time Xiao Hu saw Song Tian'er, he thought she was the most beautiful girl in the world. Now, he considered her to be a goddess in his eyes. Xiao Hu never had any confidence in himself. He thought no woman in the world would ever give him the slightest chance. Right now, he felt like he had died and gone to heaven.
Later on that night, Song Tian'er made an exquisite meal for Xiao Hu. She wanted to show her gratitude towards him. Xiao Hu was impressed by her culinary skills. Every dish was pleasing to the eyes and had a wonderful aroma in the air.
Xiao Hu picked up his chopsticks and filled his stomach with content. After a few bites, he asked, "Miss Song, something has been bothering me. Can I ask you a few personal questions?"
Tian'er had a big smile earlier on her face but it turned into a frown. She knew what he wanted to ask and was reluctant to answer, "Yes, I don't mind."
Xiao Hu placed his chopsticks on the table and inquired, "How did you get those injuries?"
She took a deep breath and said, "I wasn't careful. I fell down from the stairs and cut myself. Don't worry about it. Just look at me. I feel wonderful."
Xiao Hu didn't believe her. He looked at her injuries and wanted to investigate further. However, just when he was about to open his mouth, two knocks were heard from the door. A woman was on the other side of the door, kicking and screaming.
"Song Tian'er! You *****! Come out of that house now! Do you think you can hide from me and run away as you please?" The woman kicked the door once more.
Tian'er ran behind Xiao Hu. She was trembling and had sweats on her forehead.
Xiao Hu looked at her and asked, "Who are these people? And what do they want from you?"
She didn't answer him. All of her attention was at the door.
The woman outside screamed even louder, "Didn't you hear me? Come out now or I'm going to break this door down!"
Xiao Hu was about to open the door. All of a sudden, the door came crashing down. He escaped just in time from the crash. A big muscular man and a fat woman appeared in front of them. The fat woman was intimidating enough to scare anyone away. However, the big muscular man was worse. He was big as an ox. Whenever the big man breathes, one could feel the air coming out of his nostrils. His arms were big as his head.
Both Xiao Hu and Tian'er just stood there and were scared out of their wits.
The fat woman walked up and commented, "Well…well…look at what we have here. Not only did you work hard at my place but I can see you're working hard here as well."
Xiao Hu had his attention on the big man then turned his head towards the fat woman, "What are you talking about? And what do you want from her?"
She chuckled and pointed her fingers toward Song Tian'er, "Young man, do you know what kind of girl she is? She works for me. She's a prostitute. I own a brothel in this town. You can call me Madame Hei Zhen Zhu. You're a man. You should know about these things. I'm quite sure you've been to my place a few times."
He didn't respond, but just shook his head. Madame Hei continued, "I'm surprised. I guess you're not like other men. Good! Come to my place sometime and I'll give you a discount. We have many young beautiful girls there. They'll treat you better than her." She started to laugh continuously.
Suddenly Madame Hei walked up to Song Tian'er and was about to grab on to her.
However, Xiao Hu made a quick move and stood in front of Tian'er and blocked Madame Hei. "Wait! You can't take her!"
A grunt could be heard from the big muscular man. The old woman signaled to him and said, "Show him what you could do, but don't kill him."
The man walked up to Xiao Hu. Apparently, Xiao Hu had to look up when the man got closer to him. The big ox was two feet taller than Xiao Hu. The man made a gesture for Xiao Hu to back off but he refused to move.
Tian'er backed away from Xiao Hu. She knew how strong her opponent was. All of a sudden, Xiao Hu made a surprised attack. He punched the big man on his stomach with all his strength. The big man just smiled. Xiao Hu tried again and his own hand became numb.
Xiao Hu turned around towards Tian'er and signaled her to run. Just when he turned around to face his opponent again; he felt a big blow on his stomach. He dropped right down to the floor. Tears were flowing down from his eyes. He had a hard time catching his breath. The pain was so horrendous that he wanted to die instead.
Madame Hei raised her hand and said, "Enough! Take her away!"
The big ox obeyed her command and carried Song Tian'er out the door. Tian'er didn't resist because she knew the consequences. He would definitely hurt her severely.
The Heavenly Jade Brothel had the best entertainment in Yu Hang Zhen Town. Travelers from around the world would stop by the brothel whenever they come to town. Corrupted officials, criminals, and heroes of the world stayed at least once in this brothel. Beautiful girls were lined up to give service to the customers.
Madame Hei Zhen Zhu was the founder of the brothel.
Like every other night, the room was filled with men who couldn't keep themselves from looking foolish. Some drank wine until they couldn't hold it any longer and puke. Others chased women around like little kids. The men were enjoying themselves until a young man shows up, soaked in sweats.
The young man walked up to Madame Hei Zhen Zhu and demanded, "Where is Miss Song Tian'er? I came to take her back with me!"
Madame Hei sighed and said, "You again? You didn't have enough? I see. I'll make sure you can't get up this time." And then she signaled to the big muscular man.
Wang Xiao Hu saw the big man and shouted, "Wait! I want to buy her off!"
Everyone including the prostitutes started to laugh. Apparently, Xiao Hu didn't know much about the brothel's business. He was confused but yet determined.
He continued, "Give me a price!"
Madame Hei laughed and said, "Buy her off? You probably don't have enough to have one night with her. Her worthless mother sold her for five hundred taels of silver."
The room was quiet. Everyone was waiting for Xiao Hu to respond.
Xiao Hu gave Madame Hei a smile and said, "Good. I have five hundred taels of silver now. I want to buy her off."
Madame Hei looked surprised. She thought to herself, "How can a poor man like him have so much saved up?"
She continued, "I didn't say I'm going to sell her for five hundred to you. I'd purchased her for that amount but I'm selling her for fifteen hundred."
Xiao Hu shouted in desperation, "That's crazy!"
"Young man, this is a business. Do you know how much I would lose to give her up? She's the best prostitute I have here. How can I take care of these girls and myself?"
He quickly answered, "Fine! Give me five months. I'll have enough by then."
Madame Hei coughed and said, "Five months? I can't wait that long. I'll give you one month."
"I can't…" Xiao Hu tried to explain but got cut off.
"If you don't agree, you could leave now." Madame Hei pointed to the door.
"I'll be back within a month." He walked out the door without saying another word.
Wang Xiao Hu had over twelve hundred taels of silver saved up. It took him nine years of hard work. Li Xiao Yao, his best friend would spend most of his money on women while he did not. Xiao Hu would probably do the same but he never had any luck with woman.
The local restaurants were the only source of income for Xiao Hu. He received twenty taels per month from his earnings. Even if he worked double shifts, he'll only save up about fifty taels.
Xiao Hu decided to worked double shift. In the daytime, he'll pickup vegetables for the local restaurants. At night, he would dig up graves for the local towns. He worked hard day and night.
One month passed. Xiao Hu managed to save up about fourteen hundred taels of silvers. Time was eating him up so he decided to sell his house and belongings.
Xiao Hu didn't care what he had to go through. He just wanted Song Tian'er by his side. All he could think about was releasing her from that awfully dreadful place.
Madame Hei was behind the counter when Xiao Hu entered. He walked up to her and scattered the taels of silver onto the counter.
"Here are the fifteen hundred taels of silver I've promised you. Now take me to her." He said full of confidence.
Madame Hei raised her eyebrow. She was surprised to see him with all the taels. She was quite impressed.
"I've changed my mind. I'm raising the price. I need five hundred more." Madame Hei smiled with an evil grin on her face.
Xiao Hu was stunned. He stood there for awhile before saying, "We had a deal! You gave me your words!"
"Okay, I'll make another deal with you. I'll give you ten taels of silver in exchange for one beating."
"What kind of deal is that?"
The people around the area didn't take notice of the two until Madame Hei mentioned the beating. Some shook their heads and felt bad about the situation. They all knew it was unfair to the young man. They wanted to help but rather not stick into other people's businesses.
Madame Hei walked out of the counter and explained, "I'm being fair here. Who can make five hundred taels of silver within an hour? You let me beat you fifty times with this wooden rod and you can have her."
Xiao Hu hesitated.
She continued, "Young man, take back your silvers and leave this place."
"No, I'll do it! If you break this deal again, even in death I'll come back to haunt you."
Madame Hei clapped her hands and said, "Great! Spoken like a true gentlemen. Song Tian'er…Song Tian'er…you must have owed this young man in your previous life."
Before Xiao Hu could respond to anything, two large men grabbed him and tied him up. They forced him onto the ground facing down. The large wooden rod rose up and slammed down against Xiao Hu's body. In his entire life, he'd never endured so much pain. Every strike hurt more than the first. He cried in agony.
Some of the spectators shook their heads and walked out of the brothel. They couldn't force themselves to watch this display of cruel punishment. Everyone had their respect for him but also thought he was foolish.
"There are still thirty more to go. Did you have enough? If you go any further, you might not live long enough to see her."
Xiao Hu's face changed color from red to blue but he managed to say, "I…I can go…go on."
"Men, beat him harder. Show him your…" Madame Hei was interrupted by a loud scream.
Song Tian'er ran down stairs. She went down on her knees and begged Madame Hei, "No! Stop! Please! You'll kill him!"
Madame Hei pushed Song Tian'er to side and shouted, "Men, keep on beating him!"
Tian'er saw a pool of blood near Xiao Hu and fainted. After awhile, Xiao Hu's body turned numb and he also fell unconscious.
"Enough! Take them into the room and treat their wounds." Madame Hei commanded.
Xiao Hu was awake after three days of rest. He woke up to find Song Tian'er sleeping on the table in the middle of the room. Apparently, she stayed by his side the whole time. He tried to get up but was unable to move. His whole body ached. Tian'er heard him grunt and woke up.
"Miss Song, you're here. Are you okay?" Xiao Hu asked.
She walked up and sat right next to him. "Don't talk right now. You're in worse shape than I am."
Xiao Hu sat up and asked, "That one night when I found you in the alley. Was Madame Hei responsible for that incident? "
"Mother didn't hurt me. It wasn't her but someone else. I had a customer that day. He was one of the high officials of this city. Mother wanted me to serve him. My other sisters refused to do it so I had no other choice."
"What did that customer want from you?" He asked.
Song Tian'er turned her head away from Xiao Hu and continued. "Certain men wanted different things from us. He didn't want to sleep with me that night. All he wanted to do was punished me. He tied me up and whipped me. To him, I was only a wild horse. Luckily, my mother and sister were able to distract him. I escaped through the back door and ended up in the alley. I thought I was never going to make it out alive that day."
He gently smiled and said, "I'll never let anyone hurt you again. I'll promise you that."
Tian'er suddenly stopped and had tears in her eyes.
Xiao Hu raised his hand and gently wiped her tears away. He looked into her teary eyes and asked, "What's wrong?"
"I don't deserve this. I don't deserve you at all. I'm not a clean woman. You…you could find someone better than me." As she said this more tears came rolling down on her cheeks.
"I don't care about your past. I just want you to be happy."
After he said this, she ran into his arms and cried her heart out. She held onto his arms. Her heart raced and it was full of love.
Xiao Hu held her in his arms and said, "I'll never let anyone hurt you again."
She smiled and whispered, "I'll never leave your side."
He gently pulled her head up and softly kissed her lips.
Song Tian'er blushed and Xiao Hu's face reddened as well. Just when Xiao Hu was about to kiss Tian'er again, a knock followed by a large woman appeared into the room.
Madame Hei walked into the room with a smile on her face. She had on a different smile. There was no wickedness behind those smiles.
"So how does the two happy couple feeling?" She still had on the same smile.
Xiao Hu was getting restless and couldn't breathe. He was scared that Tian'er might be punished instead of him this time. He didn't understand the whole situation. It was as if she turned into a complete different person. Suddenly, Tian'er answered with the same kind of gesture.
"Mother, we both are fine now."
Madame Hei laughed and said, "You didn't even have to tell me. I could see that you're happily wrapped in your beloved's arms."
Tian'er blushed and hid her face.
Madame Hei continued, "Xiao Hu, you looked confused and worried. Well, worry no more young man. I'll let you two go."
Xiao Hu was elated. He couldn't believe what he had heard and questioned her again, "You're going to keep your words? I made it to fifty counts?"
She laughed and replied, "Fifty? You passed out before forty. I knew a skinny man like you would never make it to fifty. I admire your courage and love though. You're probably the only man in this town who's truly a gentleman and has a heart of gold. If I was twenty years younger, Tian'er would have a love rivalry. I could have any man I wanted."
Xiao Hu also smiled now and asked, "Why a change of heart? I thought you wanted to keep Tian'er here."
Madame Hei replied, "I wanted to test you out. I wanted to see if you were willing to give up everything for her. Not only did you give up your house, you almost gave up your life. Plus, I wanted Tian'er to find a good man. Some of my rich customers wanted to buy her out too. Some were willing to pay a hundred times more than the price you'd pay. It wasn't always about how much taels I'll make. It was about her happiness. Tian'er is like my own daughter. All of these girls here are like my daughter. I love them with all my heart."
Xiao Hu sighed, "Even if I take her now, we don't have a place to stay. I've sold my house and all of my savings are in your hands."
"You worry too much young man. I purchased your house back. All of your belongings are still there. And here…" After she said this, she tossed a bag full of silvers onto the bed.
He picked up the bag and looked into it. There were five thousand taels of silver worth in the bag.
He questioned, "Why so much? I don't think I could take this."
Madame Hei frowned, "Do you think I'm that greedy? I have more than enough for ten life times. Plus, I wanted to give you this as a gift. Your wedding gift."
Both Xiao Hu and Tian'er were surprised to hear those words.
She continued, "When you have a child, I want you to make me their god grandmother. Is that a fair deal?
Xiao Hu didn't say another word but just had a huge smile on his face. Tian'er blushed once again and her face was red as a tomato. Madame Hei and Xiao Hu laughed when they saw Tian'er face.
---------------------------