Has anyone seen this? It's an old show (2000) but it's one of my all time favourites. I love it for the same reason as I love Chinese Paladin. I think there are acutally some things similar (mainly the balance of action, comedy, romance). If you haven't seen it, I totally recommend it.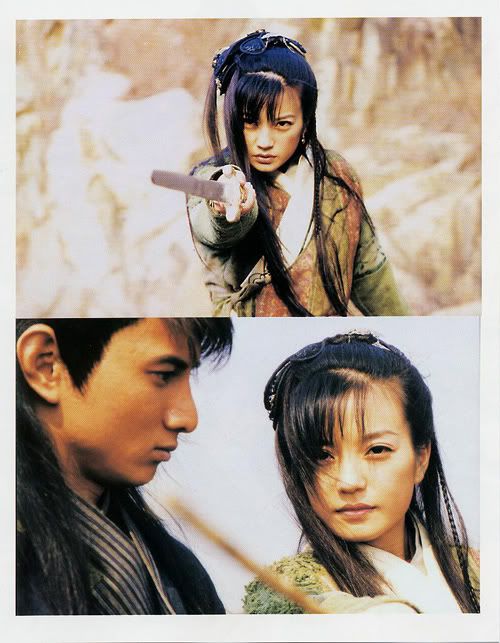 Episode 1:
http://www.youtube.com/watch?v=zKqhjR8R-qY
(youtube)
I've always referred this series as Pearls of Wisdom.
There are so many special things I absolutely adore. One of the main things is the values and little things they teach.
For example: Live life like a bamboo.
Look at how slim and soft this bamboo is. It can be bent at will, but to break it is by no means easy. If the force passes from the arms, it can become a bamboo sword, which turns into a weapon. It can pierce through flesh and blood of the human body. Its limit and tolerance absolutely does not fall below a steel knife and a metal sword.

Ancient people often compare bamboo to a hero. This is because the centre of a bamboo has a great capacity. This is just like a hero's heart, who should be open minded and wary. The Bamboo joint is just like the ambitions and moral courage. A hero would follow way and have control over the actions they do.

The sharpened bamboo can protect yourself but also kill. When the point of the bamboo touches the skin of the other side, you still have enough time to consider the value of the other's life. Life for any person can only happen once.
The Story
The Emperor asked Prince Cheng and Lu Dingwen to obtain the Divine Book of the Supreme Counselor in the underground tomb of the previous Emperor. While on the mission, they face all types of dangers. In the end, Prince Cheng decided to rebel and wanted to keep the book to himself, and trying to kill Lu Dingwen. Thankfully, his wife (Du Huixin - the mother of the main character) came and saved him on time. However, the taking of the book wasn't as successful, as a result, Du Huixin died after giving birth to a baby girl.
18 Years later, the baby girl, Lu Jianping is a very playful but kind hearted girl who dressed up as a boy and helped people. She met Shui Ruohan one day and helped him. She had him come to her house to be a reading partner. However, least to what she expected, Ruohan was an assassin sent by Eunuch Cao, one of Prince Cheng's people who would do anything to obtain the book.
Ruohan couldn't help but be taken by Jianping's happy, carefree and sweet personality. He finds himself falling in love, yet at the same time he was there for the mission of stealing the three keys that opened the tomb.
This is a story of sacrifices, love (true love!), forgiveness with excellent character development and a wonderful plot. The comedy is very funny. One of the very unique ways of using humour I've seen.
One of the things I gotta praise most for this series is the way the camera angles are, and some of the fight scenes. Seriously, some scenes are just so beautiful that I can't help but wanting to watch a hundred times. The way the camera zooms, then turn and focus. You'll have to see to know, but also the martial art moves are very unique and wonderful. I personally think that despite there are not a lot of special effects, the moves truly are great.
Another thing I love is Jianping's personality. I love this character. One of my favourite female characters in any show. She is funny and playful, but she is also very innocent in some ways and very sweet. When she is in love, she's very loving. She transforms a lot too, she learns from the book her mother wrote, about thinking about other people, and she learns what it is to be a true chilvarious heroine.
So, the purpose of my thread is, after all these years, I have finally decided to sub this series. I've been working on this for about a month and so far, I've released five episodes. I'd like to share it here if it's possible, and if you do watch it, I really hope you enjoy and post your comments.
Related Links:
http://www.ancientchinese.net/series/treasureventure
Treasure Venture Page & Downloads
http://www.youtube.com/view_play_list?p ... 273612606B
Youtube Playlist
http://www.d-addicts.com/forum/viewtopic_91779.htm
D-addicts Torrent (1-4)